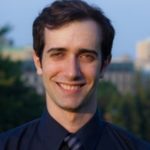 Gregory Frank
Founder
In 2016, Gregory founded E2 Adventures, a nonprofit that organizes large-scale field trips for teenagers that connect curriculum with the real world. They now works with schools across Canada, more than 150 innovative companies like Google and Pomerleau, educational researchers from McGill University, and various non-profit collaborators.
Their mission is to help teenagers understand how the world works and how it is changing, so they are inspired to get the knowledge and skills they need to make a meaningful difference. We help teachers apply curriculum to industry, and we help business leaders turn their actual activities into sources of inspiration for the next generation of innovators, entrepreneurs, scientists, professionals and workers.
I am passionate about bridging education and the real world.
Sessions
April 18, 2021
10:30 - 11:30
13:00 - 14:00